*GIRLS JR PRO BASKETBALL SIGNUPS* 3rd-5th grade girls can sign up to play basketball! Sign up sheets were passed out or if you need another one, they are in the main office. Any questions, please contact Emily Jones at 517-320-0264.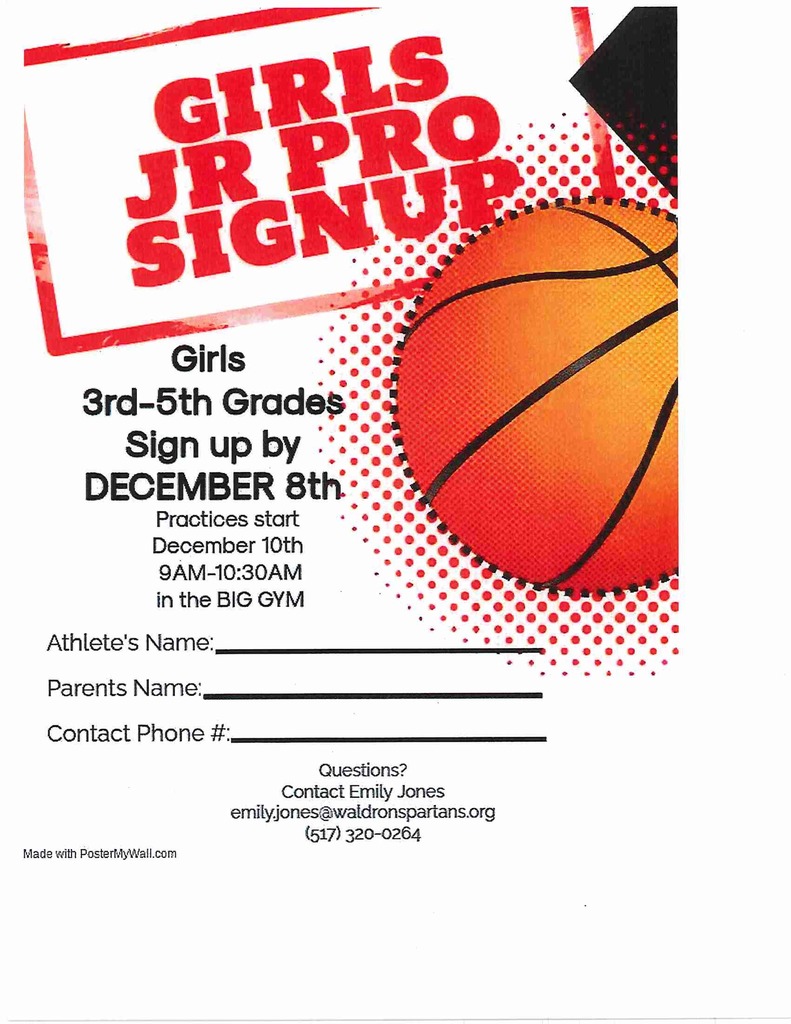 *BOOKWORMS DISCONTINUED* We regret to inform our Waldron Library BookWorm participates that the program will no longer be available. A letter will be going home with each student who attends this program. Thank you for understanding.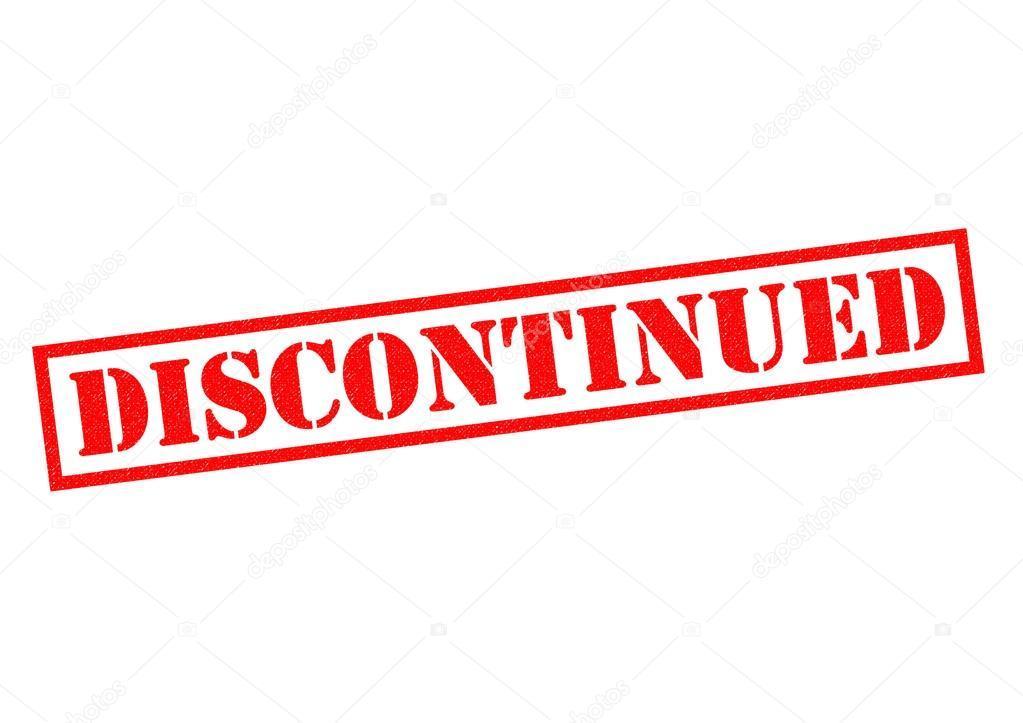 *POPCORN FRIDAY* Tomorrow, Dec. 2, wil be another Popcorn Friday! Bring your fifty cents and enjoy a tasty treat!


Tonight is FAFSA night for our seniors and their parents! We will see you all at six in the media center!

*BAND CONCERT* Don't forget about our band concert tomorrow, Dec. 1 at 7PM. There will be a Walking Taco Dinner from 5-7pm to raise money for the band program. The elementary music concert is Tuesday, Dec. 13 at 6pm with another dinner prior to the concert. Please come and support our music department.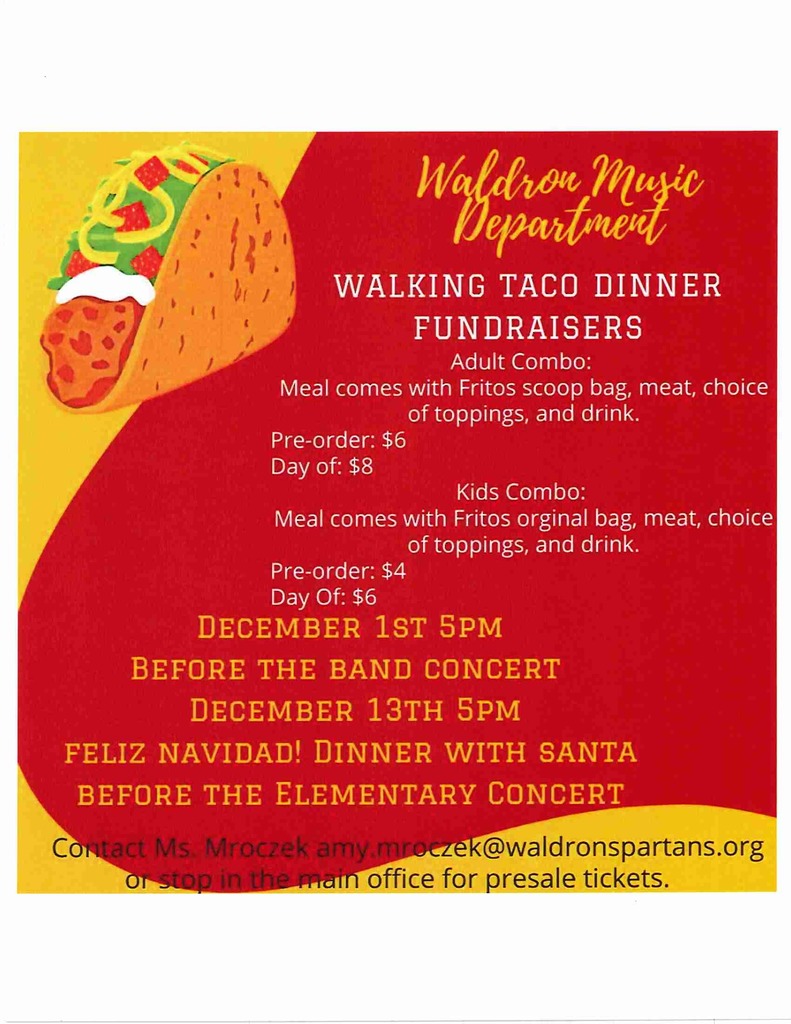 *FAFSA NIGHT* FAFSA night will be this Wednesday at 6PM! We are asking for all seniors and parents to attend. Have you received any form of supplemental government (federal or state) assistance for living expenses? Your senior can qualify for financial benefits! You don't make too much or too little! Many institutions give scholarship money just for completing your FAFSA!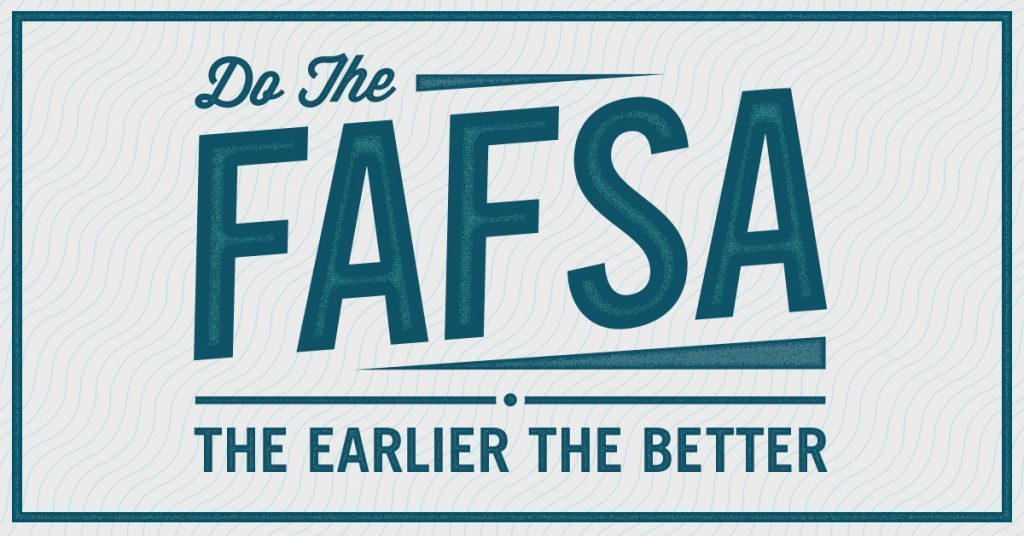 *NEW PLAYGROUND COMING TO WALDRON AREA SCHOOLS* Waldron Area Schools has received a $50,000 grant from GameTime and will renovate their existing playground. Two new structures, Accelerate II and Huckleberry Hill, will tentatively be installed in the spring/summer of 2023. Old structures will be removed. Waldron is also looking for funding to add a gazebo/picnic area to the grounds to better serve their students and community.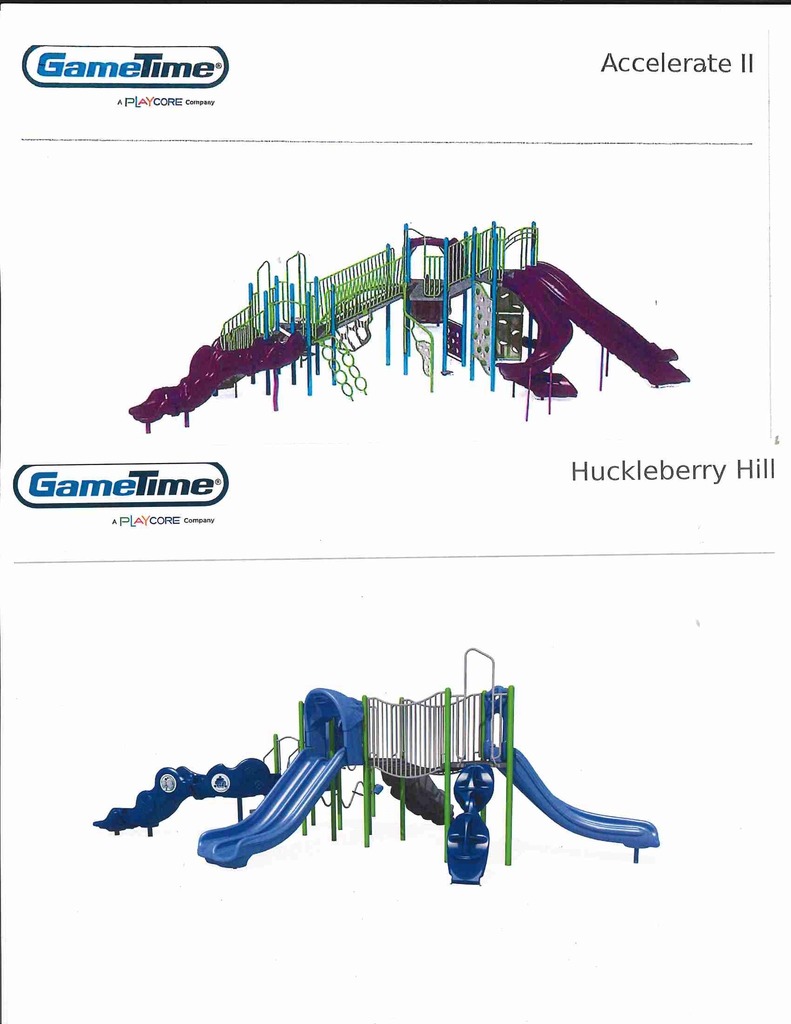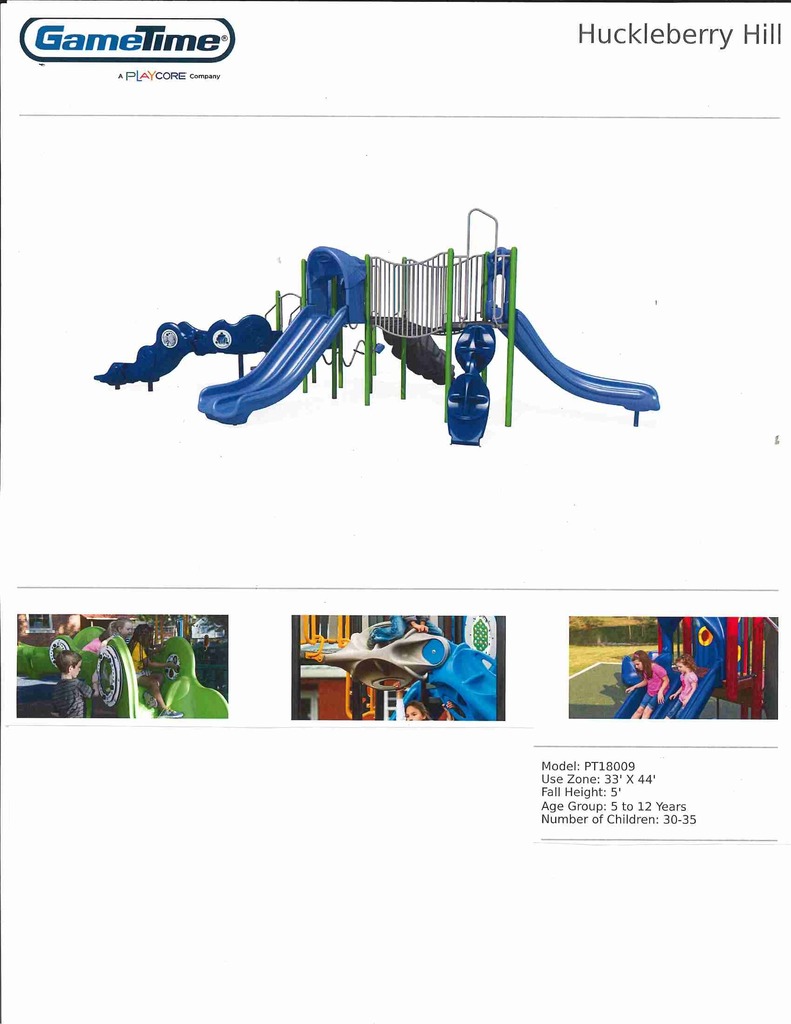 *BUS NOTICE* Bus 3 (Miss. Karen) is running approximately twenty minutes behind this morning. Thank you for understanding!

*SPECIAL LUNCH HELPERS* We want to thank our school board members who came and helped serve a Thanksgiving lunch to our students. We have a super Spartan family! Happy Thanksgiving to all!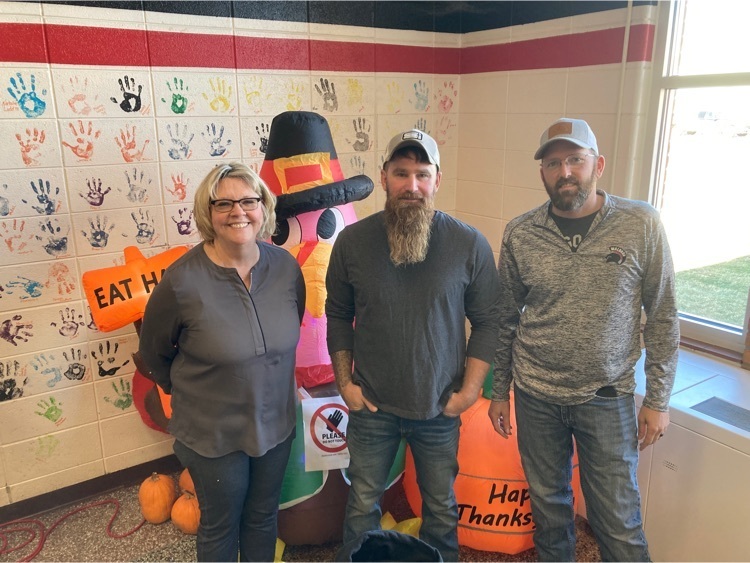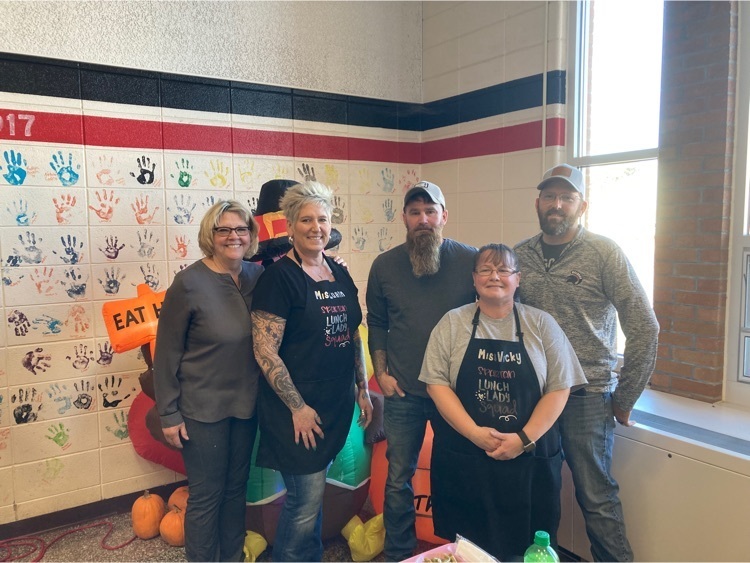 *HALF DAY* Tomorrow, Spartans that attend Hillsdale Area Career Center have class. LISD Tech Center and Branch Area Career Center are closed. Classes are 1st, 2nd, 5th, 6th, and 7th. Fifth hour begins at 9:26am for those who do not have 1st or 2nd hour classes. Reminder that dismissal is 11:55am.

*NO CODING OR TUTORING* Due to Thanksgiving break, there will be no coding or tutoring this week. Remember that Wednesday, Nov. 23, students will be released at 11:55AM. There will be no school Thursday or Friday. Enjoy your Thanksgiving!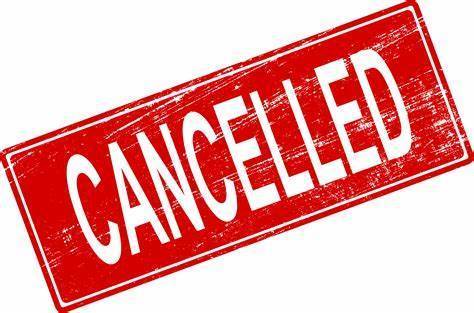 *PICTURE RETAKE DAY* Tomorrow, Monday, Nov. 21 is picture retake day! Please make sure your child returns their original picture packet. If your child missed the first picture day, make sure they get them taken tomorrow, including all seniors. We want to include everyone in our yearbook and schoolwide photos.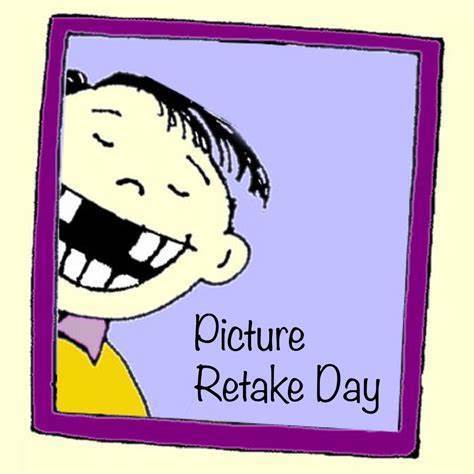 *HELPING* Thank you to all who are asking to help our Spartan family who had a house fire. The following are their clothes sizes. The main office will be a drop off center for this family. We will make sure they receive all donations. Boy: Shirt-Large Sweat pants - Size 16 or men's medium Girl: Shirt-Large Pants: Large tights or 11/12 jeans Mom: Shirt: Small Pants: 3/4 Dad: Shirt: Small/medium Pants: 29x30 or 30x30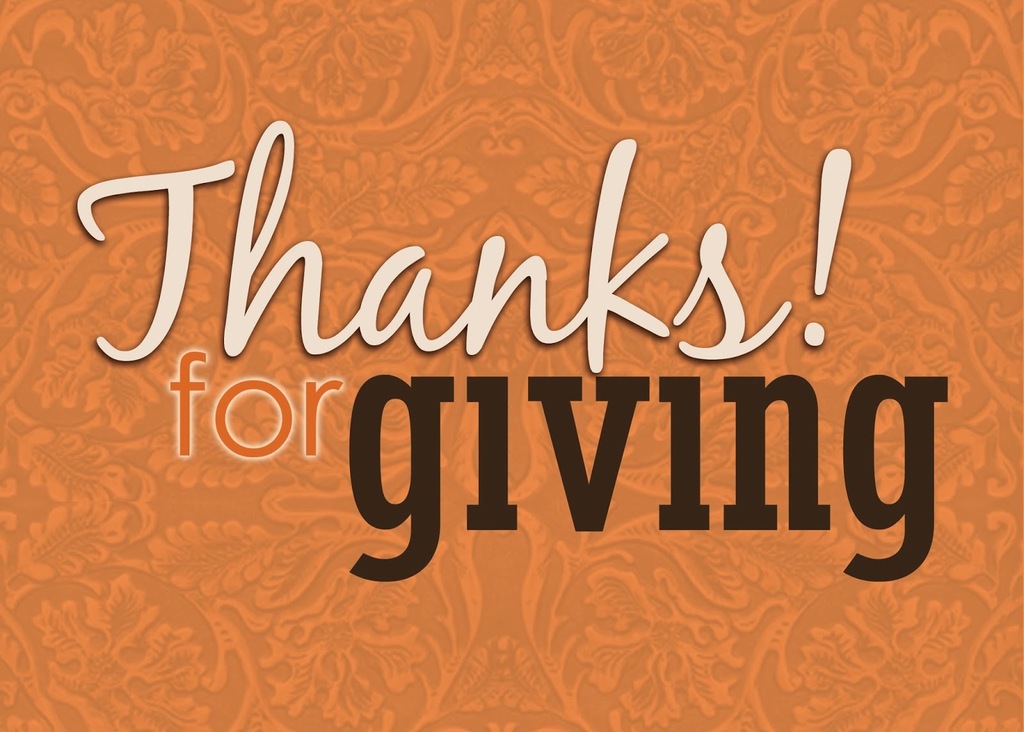 *EAT FOR A CAUSE* Pappa Joe's will be at Northside Carry Out this evening, 3pm-9pm. They will donate $2 from every meal to our Spartan family who lost their home. Please consider eating there this evening!

*CHEER PRACTICE* Cheer practice will be tomorrow, Friday, Nov. 18 from 4-6pm in the media center.

*OPEN* We will have school tomorrow! This includes tech, work, and college. Woo hoo!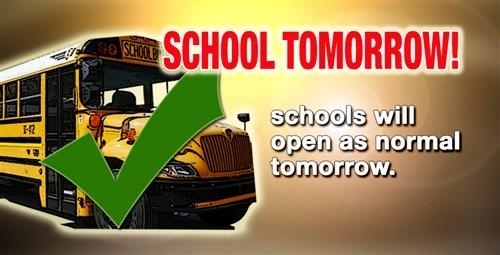 Reminder: Tonight's FAFSA event had been postponed with a tentative new date of next Wednesday.

*MS BOYS BASKETBALL GAME RESCHEDULED* We have rescheduled Wednesday's MS boys basketball game for Friday at 5:30pm at Pittsford. Go Spartans!


*CLOSED WEDNESDAY* After meeting with the Jackson ISD Supt and Tech director, the cybersecurity team is nearing completion of securing the network. However, they will require tonight and tomorrow to complete the restoration, barring any big setbacks. That means that school will be closed again tomorrow and we will plan on opening again Thursday. FAFSA will be rescheduled, as will the Pittsford basketball game. Thank you so much for your patience, Spartans.