PUMPKINS & GOURDS FOR SALE The wonderful ladies in the kitchen are going to be selling pumpkins & gourds in hopes of raising money to have a "Fun-tastic carnival" Spring 2024 for our Waldron Spartan students grades 6th and under, including toddlers :) They will be selling the pumpkins & gourds at the Varsity home football games on September 29th, October 7th & October 13th from 6pm til halftime and at the Middle school home games on October 4th & 18th from 4:00 til halftime. You can also reach out to either Vicky 517-425-7862 or Barb 517-403-3753 to arrange other times to purchase. Please support our amazing lunch ladies. THANK YOU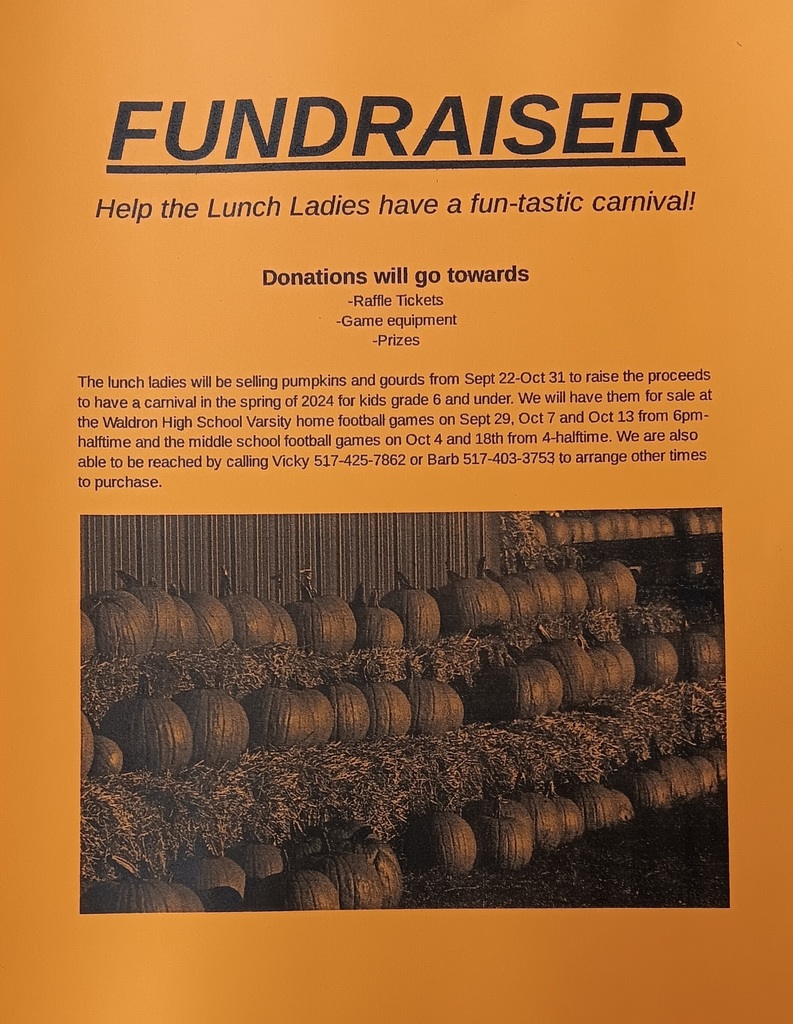 EXCITING NEWS FROM THE CAFETRIA!!!! Middle school & High school now have even more to choose from at lunch! A Salad Bar with additional toppings is offered at lunch. We ask for input from our students & here are a few pictures of the choices they get daily to add to their salads!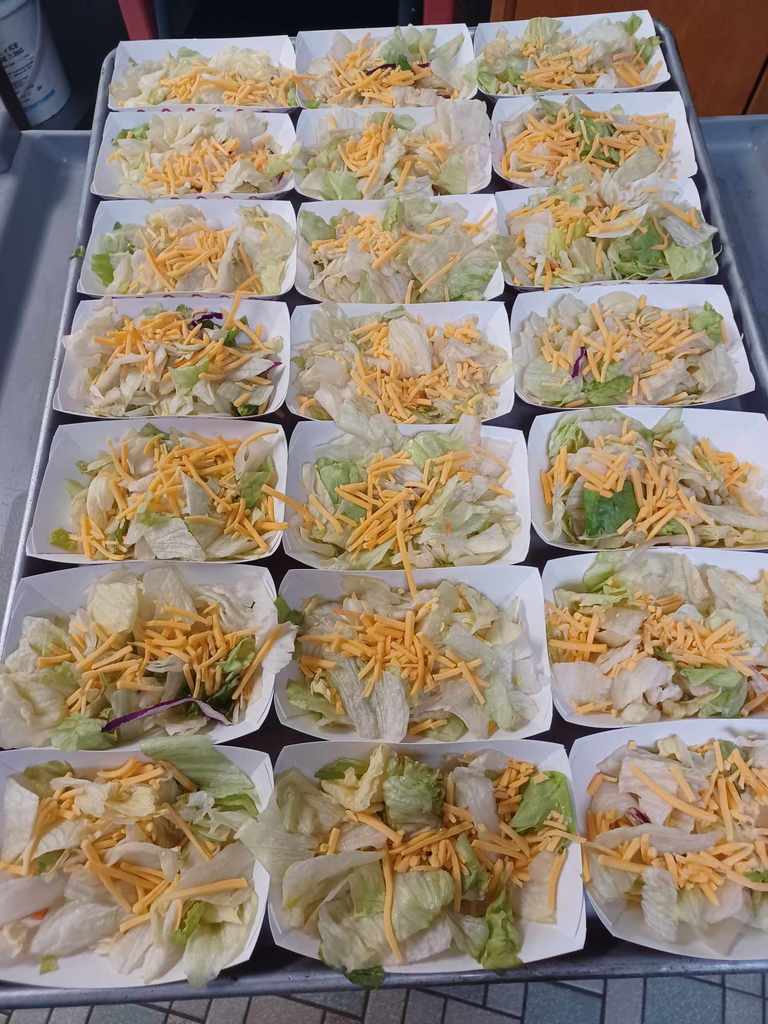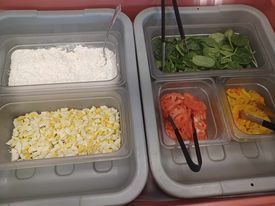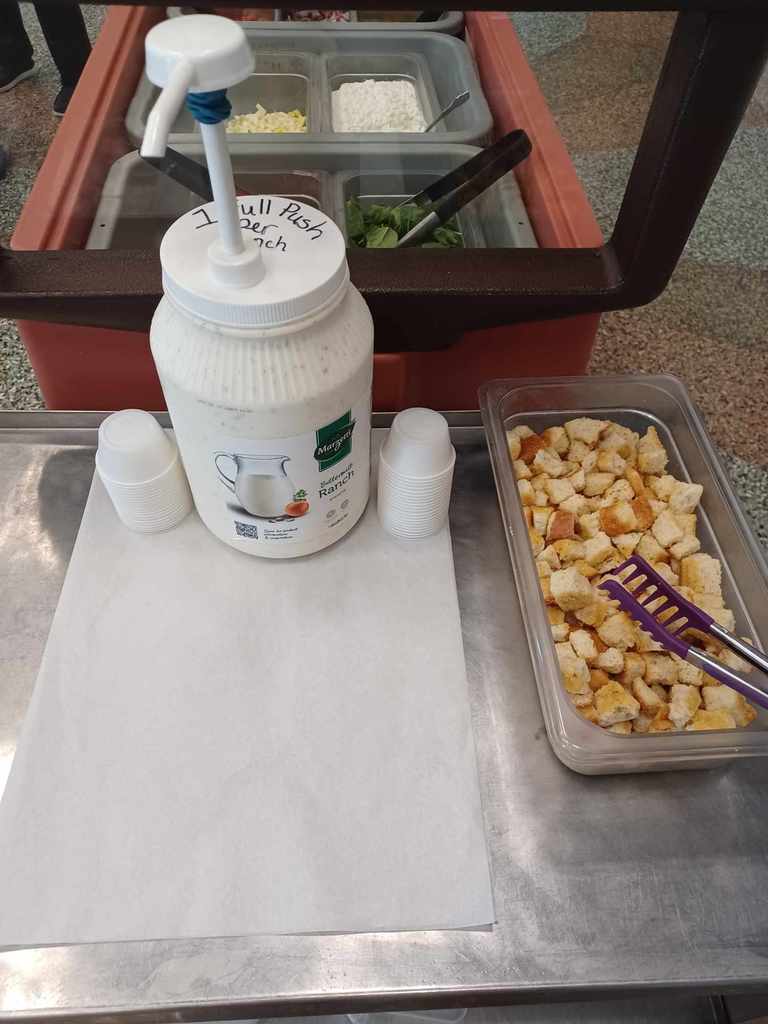 *CHOIR PRACTICE* M/HS choir practices will be today, Thurs., Sept. 21 @ 3pm; Friday, Sept. 22 @ 3pm; Monday, Sept. 25 @ 6pm and Tuesday, Sept. 26. @ 6pm. Please come to the band room/stage for all practices. Happy Singing!



*STEM DONATIONS* Elementary families, you should have received a note in your child's backpack regarding STEM and asking for your support. If you have any questions, please contact Mrs. DiCenso at
nichole.dicenso@waldronspartans.org
. Thank you!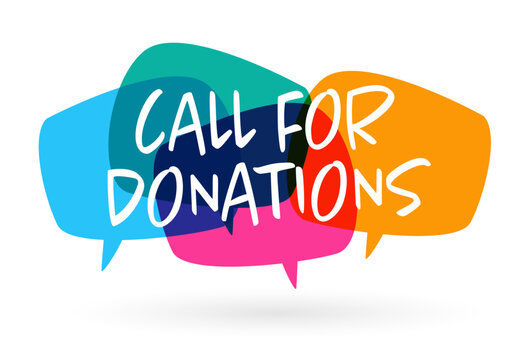 *TIME OFF* Tomorrow, Friday, Sept. 22 is a HALF day of school. Students will be dismissed at 11:30am. Monday, Sept. 25 & Tuesday, Sept. 26 there will be NO school. College students and Work Based learning students will be self transport. Good luck to everyone participating at the fair!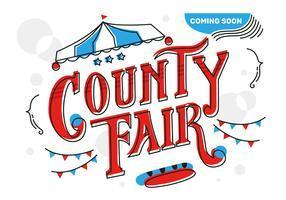 *MS FOOTBALL* Attention fans who are going to the MS football game tonight at Lenawee Christian Schools, please bring a lawn chair for there will be no bleachers available due to a project. Thank you!

*UPDATE* *MINI CHEERLEADING* Mini Cheerleading will now be open for kindergarteners as well. There will be information sent home today for a mini-cheerleading camp for K-5th graders. The camp will be Oct. 2 and 3. They will then be cheering at the home football game on October 7. The cost is $30 which includes a shirt. Look in your student's backpack for the information or call the school.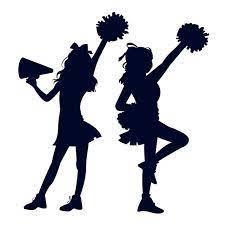 *MARK YOUR CALENDARS* Calling all 10th, 11th, and 12th grade Spartans! We are taking our annual trip to the College and Career Fair on October 16 at 6pm, hosted by the Hillsdale County Community Foundation ! We are asking that all Spartans attend and parents are encouraged to join us! We will be taking a bus! Permissions slips will be out this week. Contact Jenn with questions 908-652-1103.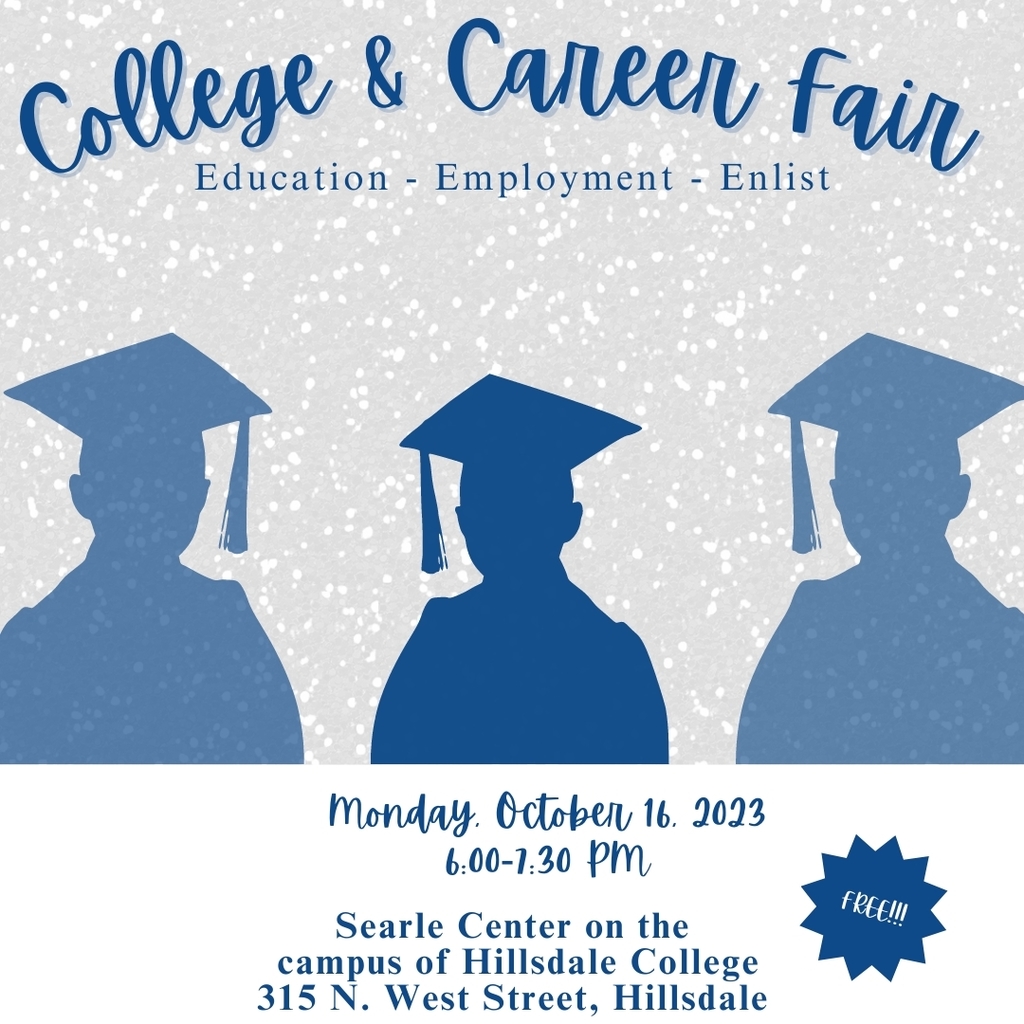 *CONFERENCES* The Hillsdale Area Career Center is having their parent/teacher conferences on September 28th! HACC parents, if you are able attend please do so!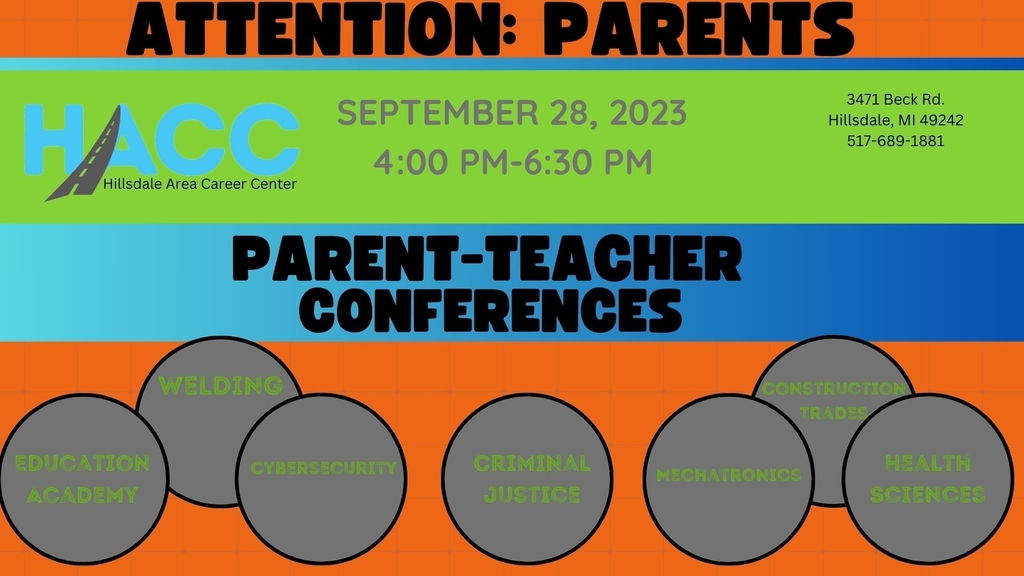 *CHOIR PRACTICE* Don't forget the M/HS choir practice is this morning, Saturday, Sept. 16 at 10:00AM. They are meeting on the stage/band room.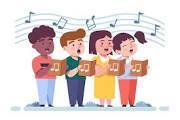 *FOOTBALL MENTORING* The varsity football team have started Friday Friendships. They will be spending time every Friday with the elementary students. It's such a blessing to be in a K-12 school. Go Spartans!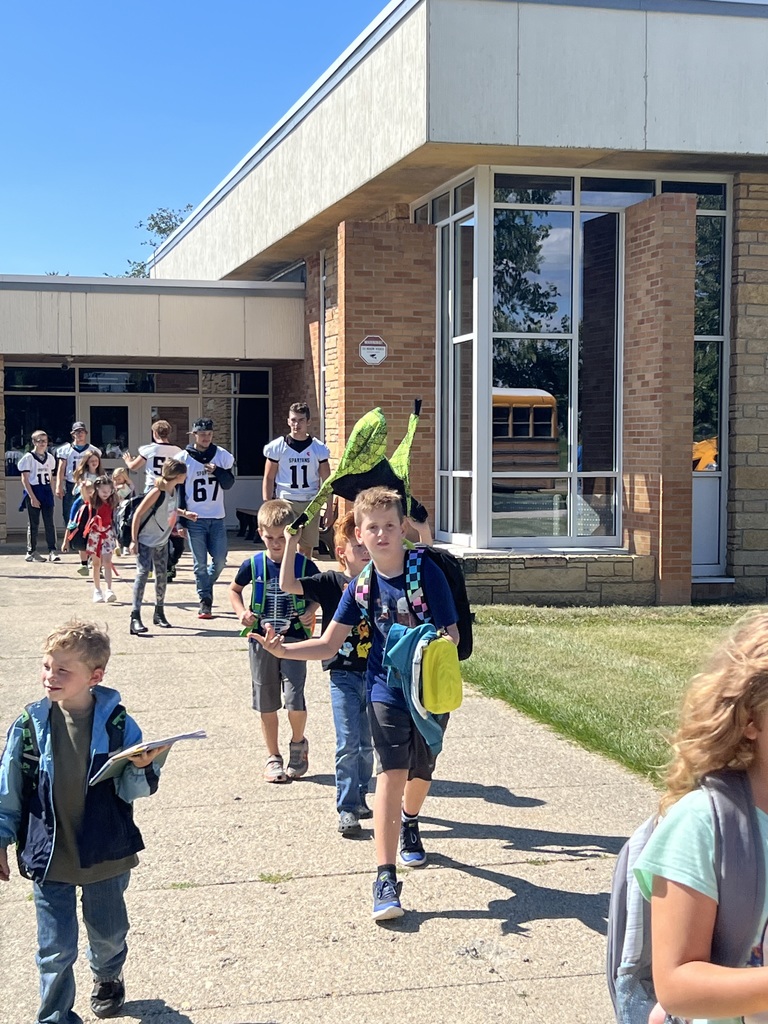 *BOOK BLAST* Attention, adventurers! Our Book Blast event starts next week where we will set off in search of treasure to build our students' home libraries. Follow the steps on the Treasure Map coming home next week to embark on an epic quest to earn exciting rewards and books.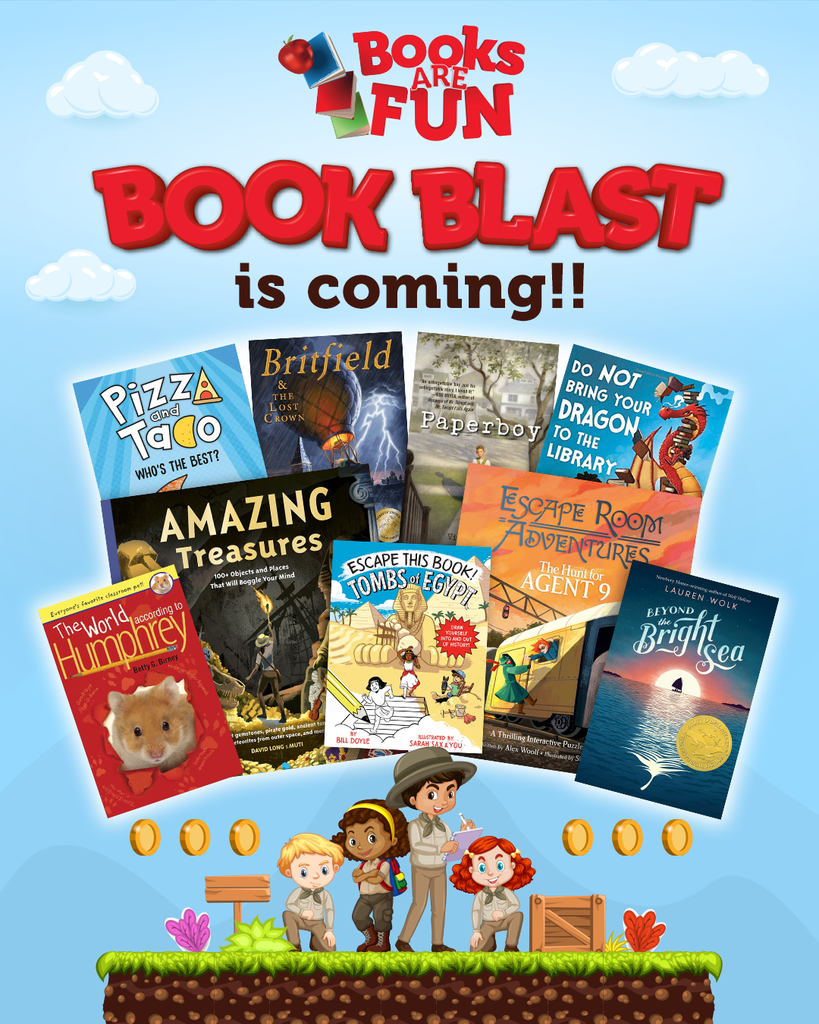 *MS FOOTBALL* The MS football team had an excellent game night winning 22-6. Great job, Spartans!
Good afternoon SPARTAN FAMILIES!! If you haven't gotten a chance to log onto the FAMILY PORTAL LINK please do so. The link is: waldron.familyportal.cloud, Select as follows: *APPLY *AGREEMENTS *ADD CHILD (all waldron students) *FILL OUT THE FORM *SUBMIT The form is also called "EDUCATION BENEFITS FORM" If you have already submitted yours "THANK YOU!" Although ALL students eat breakfast & lunch at no cost, filling out the Education Benefits Form, helps our district in many other ways which in turn benefits our students, it's a WIN...WIN!!!!
BUS #1 (Brian Fix) is running about 10 minutes late this morning

*HOME FOOTBALL GAME* Tonight is our first home varsity football game and it's Parent's Night! The game starts at 5:30pm with the 5pm start for the Parent's Night ceremony. Also, the cheerleaders are having a bake sale starting at 4pm. Come on out and support our Spartans!

The Waldron Community Days are seeking four volunteers for Saturday BINGO! They must be 18+ and willing to handle money. If a group of teachers we will make a donation to their class, if a student org or class that parents volunteer we will donate to that group. 207.768.8082, 515pm - 830pm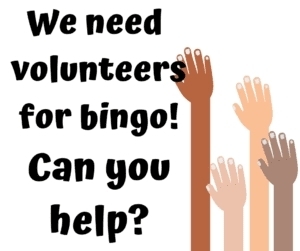 *TUTORING* Our 3rd-5th grade after school tutoring will begin Thursday, Sept. 28. If you would like to sign your student up for tutoring, please contact the main office. This service will be every Thursday after school until 4pm starting later this month.

*THANK YOU!* We want to give a huge thank you to the Hillsdale Kiwanis Club who came in today and dropped off a large amount of school supplies. Thank you for thinking of us! Our staff and students are thrilled.