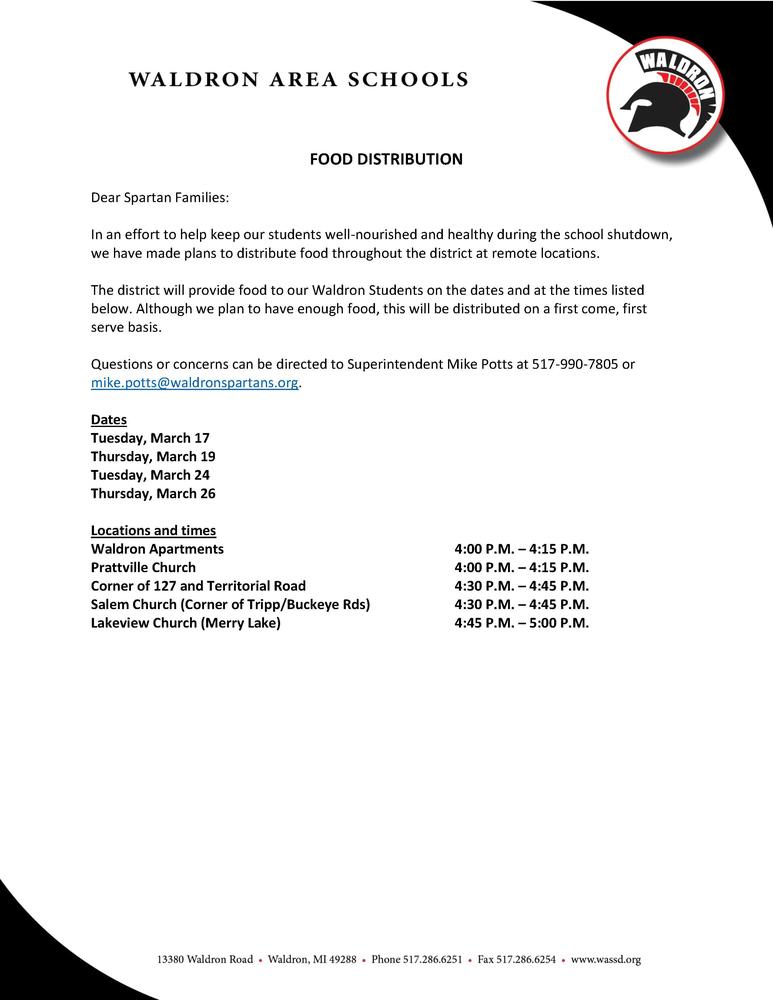 Food Distribution
WAS Food Services
Monday, March 16, 2020
Dear Spartan Families:
In an effort to help keep our students well-nourished and healthy during the school shutdown, we have made plans to distribute food throughout the district at remote locations.
The district will provide food to our Waldron Students on the dates and at the times listed below. Although we plan to have enough food, this will be distributed on a first come, first serve basis.
Questions or concerns can be directed to Superintendent Mike Potts at 517-990-7805 or mike.potts@waldronspartans.org.
Dates
Tuesday, March 17
Thursday, March 19
Tuesday, March 24
Thursday, March 26
Locations and times
Waldron Apartments 4:00 P.M. – 4:15 P.M.
Prattville Church 4:00 P.M. – 4:15 P.M.
Corner of 127 and Territorial Road 4:30 P.M. – 4:45 P.M.
Salem Church (Corner of Tripp/Buckeye Rds) 4:30 P.M. – 4:45 P.M.
Lakeview Church (Merry Lake) 4:45 P.M. – 5:00 P.M.